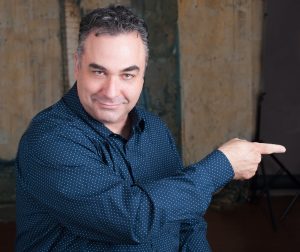 If you would like to know more about having Tom speak at your event please fill out the following and we will get back to you right away. Or you can call 732-818-0080 x 102
Are you in need of a speaker that engages audiences with motivation and infotainment?
As Speaker, Marketing Consultant, Author and Educator for over 20 years my goal is to educate and entertain my audiences using infotainment. My rates are reasonable and I guarantee a great presentation.
During the many years of my business relationship with Tom, I've heard him make stimulating and motivational presentations about creative, innovative and effective sales and marketing advice and services that will help clients significantly increase the awareness of their organizations as well as the revenues and profits. In many cases, he recommends the use of low and no cost marketing and sales activities that achieve the client's goals without making a huge dent in their budget.
I have seen Tom Forgione speak on several occasions at marketing seminars and a wedding industry marketing seminar. On every occasion I have come out learning new insights and techniques about marketing. Besides being a knowledgeable and dynamic speaker, Tom also brings along graphics and power point presentations to illustrate his lectures. Even though he specializes in internet marketing, he has a well rounded scope of all marketing mediums and when it is beneficial to use each one.
I have known Tom for over 10 years. I am a volunteer with the Nationwide Non Profit Organization Score. Tom is by far the best speaker we have. He is comfortable in a individual and a group setting. When he talks to you, you know immediately that you are with someone who knows his subject. Tom is a expert in marketing and running a business. His message is always on target. I always seem to learn something new, each time he makes a presentation.
Tom Forgione is an excellent speaker. I have had the pleasure of seeing him speak at a SCORE seminar. He is engaging, entertaining and above all informative. His knowledge and the way he presents it keeps the audience's attention as well as informed.
When Tom Forgione takes the podium, he speaks from experience. His strong command of the content keeps the viewers engaged and empowered to take what they have learned and apply it to their businesses.
As a professional public speaker and speaking coach, naturally I always listen and watch speakers with a critical ear and eye. When I first saw Tom Forgione speak at a seminar two years ago I was absolutely impressed by his strong delivery, excellent presentation skills, and ability to smoothly seam together humor and valuable information. After his presentation I walked right up to him and commended him as one of the best speakers I'd ever seen. Tom is a truly talented speaker and well-respected marketing industry expert– you simply must attend one of his seminars!
Here is a video of some short clips for you to review.
Some of my presentations.
(presentations can be produced for your event) Length can vary from 22 minutes to two or more hours in workshop environment.
Email Marketing And Lead Generation For Your Business
Encouraging Customers To Make Repeat Purchases
Generating More Qualified Leads
How To Capture Quality Leads On Your Website And Automate Your Sales Messages.
How To Get More Hot Leads That Will Make You More Money Without Spending A Fortune On Advertising.
How To Get Your Customers To Come Back And Buy From You Again And Again.
How To Make More Money From Each Customer Without Selling.
How To Use Digital And Traditional Marketing To Increase Your Business Exposure And Profits
How To…Improve Your Strategic Marketing, Update Your Website & Social Media, Boost Your Branding, Generate More Leads
Increasing The Frequency Of Customer Transactions
Marketing Hacks – Do-It-Yourself Tactics To Find Qualified Customers And Make More Sales!
Marketing Is Not A Sprint, It's A Marathon
Marketing Your Business. The First Steps.
More Clients = More Profits = More Growth
Recovering Your Marketing Mojo. Get More Leads And Make More Sales!
Social Media Marketing For Business
Social Networking & Traditional Marketing Techniques.
Starting A Business
Successful B2B Marketing – Four Important Steps.
Successful Business Practices
Successful Sales & Advertising Communications
The Beginning – Thinking About Starting A Business?
The Marketing Plan
Using Social Media To Drive Leads To Your Website
What Is Social Media Marketing And How To Create A Marketing Plan.
Why Is Social Media Important?
You Must Do More Than Your Competition If You Expect More Business.