You don't have to take my word for it look around the web. You will see that everyone agrees that your email list is critical to building your business. However, you should only build your list with qualified prospects. You don't want anyone on your list that does not want or need what you're selling.
A great way to build your list of qualified people is to give your potential customers something of value in exchange for their email addresses. This is best accomplished by using a service to collect and distribute the emails. One email blast at a time is fine and better than nothing but its best to place potential customers on an autoresponder list.
There are many companies that sell automatic email marketing systems. The price ranges dramatically from free to thousands of dollars a month. Each service has many features and it's up to you to make sure you choose one that you completely understand. You should choose one that will give you free autoresponder training and work flow training. If you don't you will become discouraged and not utilize the service and there goes your emarketing down the tubes. Which would be a shame as when done correctly automatic email response is a great way for your business to capture sales leads and gain more market share as well as kill the competition?
The automatic email marketing concept is simple.
You gather email from your visitors in a number of ways. A free download, coupon offer, physical product shipped to their door, access to a VIP area, etc. Just make sure what you give them is of high value and hyper-specific to the products or services you provide. For example if you're selling suits your "bait" could be a free lesson on colors for your skin tone or how to look slimmer in your suit. This way you know someone would not download or view this content unless they are interested in fashion or looking good.
Once they sign up for your free information they are place into a autoresponder sequence that will email them over time more free educational information along with offers they can redeem. This would be part of your sales funnel stages some call it a lead funnel or email funnel.
Email Work Flows
Depending on the service you use you can also set up work flows in addition to the autoresponders or in conjunction with them. You could also utilize your website. For example you could have them sent autoresponders. Then when they click on a link that is not directly related to your offer they are automatically pout into a different autoresponder list. This trigger could also be set up depending on which page they viewed the longest on your website. The options are endless. (Please note. The more advanced examples would require a better service. You don't get that with a 49.00 per month service.)
If you can afford it it's best to start with one company that would offer all the features. This way you don't have to move to another service which could be painful if you have many autoresponder sequences set up.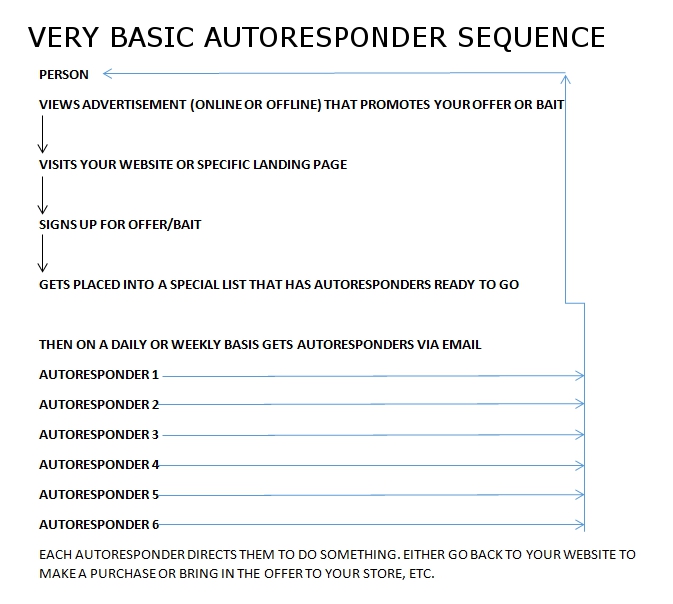 If you need help with any of this just give me a call at 732-818-0080 x 102 or use my contact form.
Thank you and as always your comments are welcomed and appreciated.